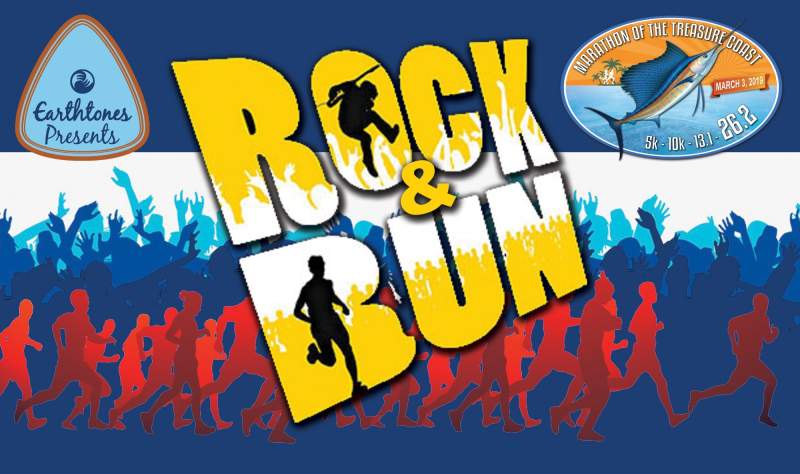 One of the highlights of Marathon weekend is the Marathon Rock & Run Music Festival presented by Earthtones.
Race participants receive a weekend pass to the Festival as part of their registration, a $40 value!
Race participants click here to purchase companion tickets
FRIDAY, March 1, 2019
ANA POPOVIC
Ana has been moving west all her life. She fell in love with American blues as a kid, starting back home in Belgrade, Serbia (ex-Yugoslavia), then moved to the Netherlands to study at the conservatory of jazz and world-music. She lived in Amsterdam for over ten years, and then in a single-minded pursuit of her art and career, she relocated to Memphis, TN to record and work with Southern musicians. Finally, two years ago, she moved her family to Los Angeles, California where she now lives.
Called "one helluva a guitar-player" by Bruce Springsteen and nominated for six Blues Music Awards, Ana has appeared on the covers of Vintage Guitar and Guitar Player magazine. Her albums 'Can You Stand The Heat' and 'Unconditional' were USA Today Picks-Of-The-Week and featured on NPR Weekend Edition, who praised her "Fiery technique on the Stratocaster". Nearly all of Ana's albums reached the top of the Billboard Blues Charts. She and her six-piece band have toured tirelessly, sharing stages with B.B. King, Buddy Guy, Jeff Beck, Joe Bonamassa and many others.
BETTY FOX BAND
With an extensive background in gospel and a lifelong passion for soul music, Betty Fox has come a long way from her southern roots to headlining festivals and captivating thousands with her raw swagger and unwavering talent. After honing her craft for 20 years, her debut album, "Too Far Gone", put her on the international map as a songwriter and vocalist and had the critics from American Blues Scene Magazine to Blues Revue Magazine singing her praises!
To support her talent, she has carefully selected musical heavyweights Barry Williams on bass, and Tony Cintron on drums and Josh Nelms on guitar to set herself up for nothing less than well deserved success. This band has competed in the International Blues Challenge making it to the finals 8 of 150 bands! They have opened for such artists such as Mavis Staples, Lucky Peterson, Jimmy Thackery, Marcia Ball, Southern Hospitality, and The Meter Men, for crowds amassing over 6,000 screaming fans! As many will tell you, you definitely don't want to miss this one of a kind musical experience!
ABBY OWENS
Abby Owens is a story teller of songs hailing from Indiantown, Fl. Working alongside the likes of Jason Isbell, Drivin' N Cryin', and Leon Russell, Abby's roots-style music is inspired by the south. "I like to play what I like to listen to." Abby states. "My songs are about what I've experienced directly or indirectly." Abby's songs, while unpredictable, weave through relatable experiences, thoughts, and emotions. Her songwriting combined with a percussive acoustic guitar style and smooth vocal makes for an engaging performance.
SATURDAY, March 2, 2019
FLOYD, A Tribute
Floyd A Tribute, is a celebration of the legendary career of the progressive rock band Pink Floyd. This 90 minute production features precise musical renditions of some of their signature songs, along with an impressive light show that includes complex synchronized lighting movements, multiple laser displays and video wall. The show is crafted to engage both younger and older generations—providing fans of all ages an opportunity to relive the creative genius of Pink Floyd that produced an incredible spectrum of music over a period of nearly 50 years!
​The 10 member band features all of the musical and theatrical elements that were critical to Pink Floyd's historic success. The vocal focus of the group emulates the quality and energy of two of Pink Floyd founders - David Gilmore and Roger Waters, while the three female vocalists provide the signature harmonies and soulful arpeggios that made the band famous in the 1970's. The band incorporates multiple guitarists utilizing electric, acoustic and classical guitars including Pink Floyd's distinctive lap steel voicings. Two keyboardists provide the orchestral foundation of the original band's unique sound, and a solid rhythm section of percussion and electric bass underlies the overall production. Finally, the characteristic saxophone rounds out the ensemble with the unique solo punctuations that highlight many of their hit songs.
BROTHERS AGAIN
BROTHERS AGAIN - A celebration of The Allman Brothers Band is a powerful 8 piece group that faithfully recreates the music of one of the finest bands of all time. They interpret the Allman catalog in such a way that these songs written in the '60s and '70s come alive again. If the band has learned anything from performing these songs, it is the realization that even though The Allman Brothers Band has shut down, their music maintains the same power over people just as it did 45 years ago. It is a phenomenon BROTHERS AGAIN gladly verifies every time they hit the stage.
BROTHERS AGAIN recalls that unique period in American rock, when psychedelia ebbed and The ABB informed us what jazz, rock, country and blues could sound like.
JASON GREEN
Jason Green is a very proficient and versatile musician. He is adept in many styles of music and has been influenced by Dave Matthews, Tom Petty, Jack Johnson, Jason Mraz, Kings of Leon, Ben Harper, 90's alternative, classic rock and much more
Showtimes:
Friday March 1
6:00-6:45 Abby Owens
7:00-8:00 Betty Fox Band
8:30-10:00 Ana Popovic
Saturday March 2
6:00-6:45 Jason Green
7:00-8:00 Brothers Again
8:30-10:00 FLOYD, A Tribute
Click here to visit Earthtones for more information
Race participants click here to purchase companion tickets
All events held at:
STUART MEMORIAL PARK
300 SE Ocean Blvd
Stuart, FL