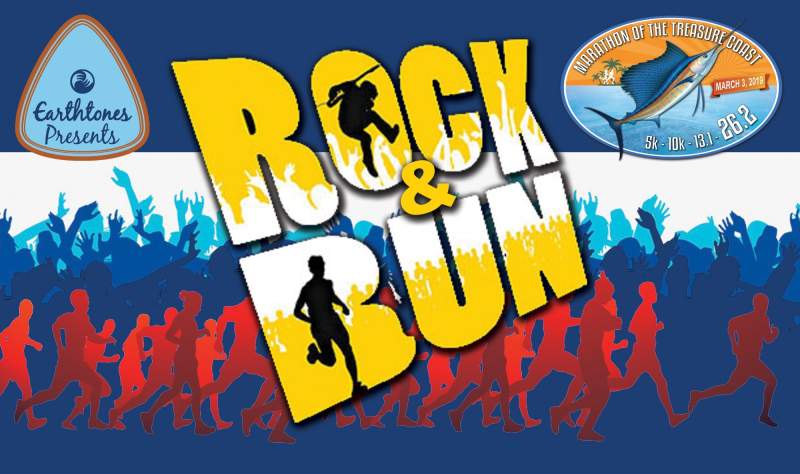 One of the highlights of Marathon weekend is the Marathon Rock & Run Music Festival presented by Earthtones.
Race participants receive a weekend pass to the Festival as part of their registration, a $40 value!
Race participants click here to purchase companion tickets
FRIDAY, March 1, 2019
ANA POPOVIC
Ana has been moving west all her life. She fell in love with American blues as a kid, starting back home in Belgrade, Serbia (ex-Yugoslavia), then moved to the Netherlands to study at the conservatory of jazz and world-music. She lived in Amsterdam for over ten years, and then in a single-minded pursuit of her art and career, she relocated to Memphis, TN to record and work with Southern musicians. Finally, two years ago, she moved her family to Los Angeles, California where she now lives.
Called "one helluva a guitar-player" by Bruce Springsteen and nominated for six Blues Music Awards, Ana has appeared on the covers of Vintage Guitar and Guitar Player magazine. Her albums 'Can You Stand The Heat' and 'Unconditional' were USA Today Picks-Of-The-Week and featured on NPR Weekend Edition, who praised her "Fiery technique on the Stratocaster". Nearly all of Ana's albums reached the top of the Billboard Blues Charts. She and her six-piece band have toured tirelessly, sharing stages with B.B. King, Buddy Guy, Jeff Beck, Joe Bonamassa and many others.
BETTY FOX BAND
With an extensive background in gospel and a lifelong passion for soul music, Betty Fox has come a long way from her southern roots to headlining festivals and captivating thousands with her raw swagger and unwavering talent. After honing her craft for 20 years, her debut album, "Too Far Gone", put her on the international map as a songwriter and vocalist and had the critics from American Blues Scene Magazine to Blues Revue Magazine singing her praises!
To support her talent, she has carefully selected musical heavyweights Barry Williams on bass, and Tony Cintron on drums and Josh Nelms on guitar to set herself up for nothing less than well deserved success. This band has competed in the International Blues Challenge making it to the finals 8 of 150 bands! They have opened for such artists such as Mavis Staples, Lucky Peterson, Jimmy Thackery, Marcia Ball, Southern Hospitality, and The Meter Men, for crowds amassing over 6,000 screaming fans! As many will tell you, you definitely don't want to miss this one of a kind musical experience!
ABBY OWENS
Abby Owens is a story teller of songs hailing from Indiantown, Fl. Working alongside the likes of Jason Isbell, Drivin' N Cryin', and Leon Russell, Abby's roots-style music is inspired by the south. "I like to play what I like to listen to." Abby states. "My songs are about what I've experienced directly or indirectly." Abby's songs, while unpredictable, weave through relatable experiences, thoughts, and emotions. Her songwriting combined with a percussive acoustic guitar style and smooth vocal makes for an engaging performance.
SATURDAY, March 2, 2019
WALL Of ECHOES
Wall of Echoes resulted from a chance conversation between bassist Ron Arbisi and keyboardist Pete Baum in 2003 after both discovered a mutual interest in '70's progressive rock, particularly Pink Floyd. The resulting band's goal was to present itself as an ensemble (as Floyd did) that would present the music as closely in spirit as possible.
The band debuted in March, 2005 in Brandon, FL. More dates followed, and excellent word of mouth resulted in a steadily-growing, more diverse audience. Engagements included the Music Ranch in Lakeland, the Brass Mug in Tampa, Boomer's in St. Petersburg, and several very successful gigs at Bourbon Street in New Port Richey. The band played a memorable outdoor date at O'Brien's in Brandon that helped to raise money for Vietnam veterans in front of some 1000 people.
WOE also played at the 2006 and 2008 Ribfests at Vinoy Park in St. Petersburg, opening for Cheap Trick and the Doobie Brothers. After a two year hiatus, Wall of Echoes was ready to go once again with a revised lineup that now included bassist/vocalist Michael Rashas, drummer/percussionist Steve Roberts, and Tammie Roberts on vocals. This lineup played across Florida, beginning on October 22, 2011 at Nude-a-Palooza in Kissimmee, Florida, featuring the Dark Side of the Moon album in its entirety. This lineup played acclaimed shows from W. Palm Beach to Panama City, until finally wrapping in 2013. The return of the original rhythm section, and the addition of guitarist Paul Hardy debuted at Centro Asturiano in Tampa May 30, 2015. New adventures await!
DAMON FOWLER
On the strength of his hybrid of roots rock, blues, and sacred steel, the Florida native started wowing audiences with his musical exploits as a teenager, building a reputation as one of the hottest young players on the scene. Adding songwriting and vocal skills to his repertoire over the years has brought him many accolades, with critics extolling his originality and maturity as well as his technical guitar expertise. In 2008's "Best of Tampa" poll, Creative Loafing magazine named him "Best Guitarist… And Slide Guitarist… and Lap Steel Player… And Dobro Player." Fowler's guitar work has been compared to Johnny Winter and Jeff Beck, while his slide guitar has a hint of the late Duane Allman. He can play fiery guitar runs with the best of them, but it's his lyrical work on lap steel and Dobro that makes him stand out among the legions of guitar heroes.
Damon Fowler's star is on the rise. As Wade Tatangelo put it in a feature piece in March, 2013, in the Sarasota Herald-Tribune, "Damon Fowler's big, dimple grin cuts through the darkness as he stands outside the historic cottage he calls home in Bradenton Beach. It's the same endearing smile he's flashed on stages across the country and, in recent years, abroad, for nearly two decades. But these days, his smile shines just a bit brighter. In the past year Fowler has married, become a father and witnessed his music career reach new heights thanks to the formation of the super group Southern Hospitality."
JASON GREEN
Jason Green is a very proficient and versatile musician. He is adept in many styles of music and has been influenced by Dave Matthews, Tom Petty, Jack Johnson, Jason Mraz, Kings of Leon, Ben Harper, 90's alternative, classic rock and much more
Showtimes:
Friday March 1
6:00-6:45 Abby Owens
7:00-8:00 Betty Fox Band
8:30-10:00 Ana Popovic
Saturday March 2
6:00-6:45 Jason Green
7:00-8:00 Damon Fowler
8:30-10:00 Wall of Echoes
Click here to visit Earthtones for more information
Race participants click here to purchase companion tickets
All events held at:
STUART MEMORIAL PARK
300 SE Ocean Blvd
Stuart, FL