Deb Daley, 1:45 - Half Marathon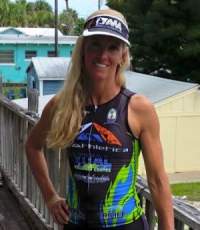 Where are you from?
Originally from Lancaster, PA. Currently I am a resident of Jensen Beach.
Current P.R.
Half Marathon PR in Naples, FL , 1:34

Number of marathons?
Around 15
Favorite marathon?
Definitely the Boston Marathon.

Personal goals:
To run the Boston Marathon again..
Why do you run?
I run to keep on an even keel through every day ups and downs.

Why should someone run in your pace group?
Run with us so we can all share in the experience of taking on a challenge.

Do you have any tips for runners about to join your group?
Try and remember to thank all of the volunteers as you are racing. The race starts in the dark, so, bring a disposable light. No injuries on my watch!

Share one quotation that you like.
Live in the moment and be in the present. Race your own race!