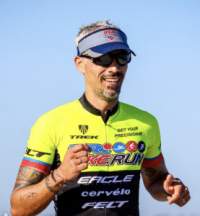 Chris Vargas, Half Marathon - 2:00
Where are you from?
Mayagüez, P.R.
Current PR
1:32:14
Number of marathons?
21
Favorite marathon
Chicago Marathon
Personal goals:
Become as good of a pacer as Kimmie, oh, and I'd love to become a running coach.
Why do you run?
I run because I love waking up at 4:00am to meetup with a bunch of amazing people to run up and down the streets.
Why should someone run in your pace group?
Because I am the perfect combination of a
cheerleader and a drill sergeant; I'll give you some love, but I'll make sure that you will stay focused on your pace.
Do you have any tips for runners about to join your group?
Stick to your training prior to the race and race day keep a steady pace with me and we will accomplish or even better, beat your personal goal.
Share one quotation that you like.
"To give anything less than your best is to sacrifice the gift" - Steve Prefontaine