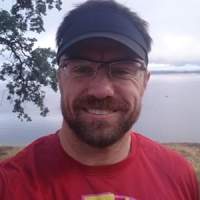 David Barnes, 4:45 - Full Marathon
Where are you from?
Salinas, California
Current Marathon P.R.
4:07.52
Number of marathons?
3 official marathons of 26.2 but over 40 marathon distance runs all the way up to 100 miles.
Favorite marathon?
Gasparilla 2010 (my first, PR, and their last)
Personal goals:
Have fun, eat tasty foods, and run in cool places.
Why do you run?
It's fun and I love to eat.
Why should someone run in your pace group?
We will have fun!
Do you have any tips for runners about to join your group?
Listen to your body when you need to rest and try not to skip your long runs!
Share one quotation that you like:
I only live once, and I want to see what it's like to go to these dark places, where we're not intended to be. -Karl Hoagland @ultrarunningmag