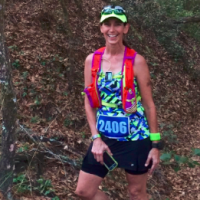 Debra Walker, 2:45 - Half Marathon
Where are you from?
I'm a native Vero Beach resident – grew up here, tried to move to the Midwest and lasted there for college and a few years of work, but couldn't resist the pull of home ;-)
Current P.R.
Half PR – 2:07
Full PR – 4:34
50K PR – 6:59
50 mile – 12:45

Number of marathons?
Full road marathons - 9
Ultra trail races, 50K and 50M - 5
Favorite marathon:
My favorite race is actually a trail ultra - the 50K Croom Fools Race in Brooksville, FL. That forest is magical!
As far as road races, Disney's full marathon is a lot of fun because I always just run those for fun and character pictures, not for pace.

Personal goals:
I'm just returning to running from a broken foot in October and have the goals of training for and doing well in a 100K trail race some time in this next year. I'm also looking forward to chasing a few more triathlon goals – completed my first sprint this past summer and really loved it.

Why do you run?
I began running because I saw that big 4-0 coming up on the calendar and it became a part of my daily routine. I run to get out of the house, connect with friends and start my days on the right foot (and the left foot!). Most of my runs are with my best running friend and we have shared most of life's events together for almost eight years and I treasure those hours and miles and connections.

Why should someone run in your pace group?
I'm an evenly paced runner and will hold us to our goals to get across that finish line exactly when we plan. Beyond that, I'm kind of a fun gal and can chat and tell stories along the way.
Do you have any tips for runners about to join your group?
We will be running utilizing the Jeff Galloway interval method and our intervals will be 2 minutes of running and 30 seconds of walking. Try practicing those intervals in your training to get used to the run/walk approach if you don't already use it. Also, make sure you have your nutrition plan well situated – nothing new on race day!
Share one quotation that you like:
Do you not know that in a race all the runners run, but only one gets the prize? Run in such a way as to get the prize. 1 Corinthians 9:24