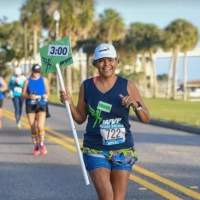 Diane Romero-Lopez, 5:45 - Marathon
Where are you from?
Originally from Puerto Rico, but I reside in Deltona, FL
Current P.R.
4:22:10
Number of marathons?
14 Marathons
14 Ultra Marathons
Favorite marathon?
New York City Marathon
Personal goals?
Boston qualify by 2020, run 50 states, and run beyond 100 miles.
Why do you run?
I run for those who can't. I belong to program called IRUN4; I run for an amazing teenage boy called Malachi. He has cerebral palsy & is spastic quadriplegic.
Why should someone run in your pace group?
I am a huge cheerleader. I will encourage every step of the way. I will distract you when it the miles get tough. I will cry with you at the finish line or wait for you if you fall behind.
Do you have any tips for runners about to join your group?
Run smart, listen to your body, trust your training, but most of all have fun! And when you have nothing left, run with your heart!
Share one quotation that you like.
Not really a quote but my favorite running mantra is BE STUBBORN!