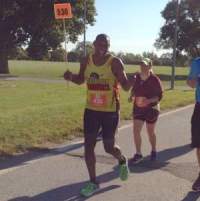 Ed Broadnax, 5:45 - Marathon
Where are you from?
I am originally from SC, but the military has given me many homes. I am now a resident of Florida and love it here.
Current P.R.
4:36- Lately I've been running with my injured girlfriend. She's about a 5:30 marathoner.
Number of marathons?
246
Favorite marathon?
I'd have to say there are many but one that keeps me running is Route 66 Marathon in Tulsa Ok. It's just so much fun and the local folks makes it that much better.

Personal goals?
My personal goals include finishing the 50 states 5 times while reaching 300 marathons to make the Mega 300 Marathon Club.
Why do you run?
Serving in the US Army for over 27 years I've been in a lot of wars- Iraq and Afghanistan. PTSD Post Traumatic Stress Disorder has taken a hold on my life because of those wars, so running sets me free, meaning my mind is taken up on helping others and enjoying mile after mile.
Why should someone run in your pace group?
I've paced over 50 marathons, so I encourage all runners to run with me because of my happiness and on time attitude never late but early or on time!

Do you have any tips for runners about to join your group?
Be ready for a great time and great stories! Make sure you have your GU, right shoes, anti-chafe, and salt tabs!

Share one quotation that you like.
Relentless Forward Progress