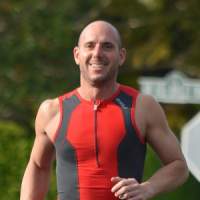 Gene Zweben, 2:00 - Half Marathon
Where are you from?
Originally, Ocean, NJ.
Currently, Stuart, FL.
Current P.R.
Half Marathon PR 1:34:12
Marathon PR 3:42:07
Number of marathons?
8 Full (including 2 during Ironman), 22 Half Marathons
Favorite marathon
Jacksonville since I just got a PR. But of course love the TC Marathon Course.
Hobbies:
Running, Triathlon, Boating, Scuba Diving
Personal goals:
To push myself to be my best and have fun while doing it.
Why do you run?
For my sanity.
Why should someone run in your pace group?
If you plan on running a two hour half, you will be running with me anyway.
Do you have any tips for runners about to join your group?
Body Glide is your friend. You will appreciate this in your post-race shower!
Share one quotation that you like.
It never gets easier. You just get stronger.