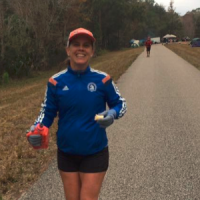 Jamie Spooner, 1:50 - Half Marathon
Where are you from?
York, Pennsylvania home of the band Live and the York Barbell
What is your current PR?
Marathon: 3:12
50 miler: 9:03
100k: 12:52
100 miler: 23:22
Why do you run?
I run because it brings me joy, peace of mind, and sets my mind in motion for the day. It is the one constant in my life that I can control. I also run because of the friendships and ability to travel around the world.
Why should someone run in your pace group?
Who doesn't love a person who has been to all 50 states? But honestly, I love meeting people and hearing of their journey. I am consistent and upbeat, even when it gets really hard.
Do you have any tips for runners about to join your group?
I always set three goals:
One achievable
One challenging
One far reaching
Never stop challenging yourself to reach for the next step and push yourself past what you thought possible.
Share one quote that you like.
"Get in the front and stay there" - my grandfather, Roderick Deland, with his advice before my first race.
"The woods are lovely, dark and deep, and I have miles to go before I sleep" - Robert Frost