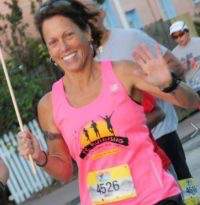 Janet Napolitano, 2:30 - Half Marathon
Where are you from?
Grew up in NYC
Current P.R.
Half-marathon 1:53:17 Full is 4:00:09
Number of marathons?
30 plus one in an Ironman in 2016
Favorite marathon:
Jacksonville
Hobbies:
Running
Personal goals:
Re-qualify for Boston
Why do you run?
I run because it gives me an awesome connection to my running friends, the world around me and my soul. I love the personal accomplishment of a good workout and the feeling of having done something that's good for me. I like the way it makes me feel physically, mentally and emotionally. I've been healthy and I've been injured and unable to run. My life with running is infinitely better.
Why should someone run in your pace group?
Running in a pace group allows you to focus on your stride, breathing and just relax while I do all the work! If you want to PR with a 2:30, you need to run with me!
Do you have any tips for runners about to join your group?
Prepare to succeed. Rest the night before and don't try anything new. Embrace every distraction- it makes the miles fly by. SMILE!!
Share one quotation that you like:
"If you think you can or you think you can't- you're right".