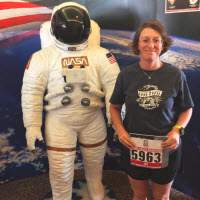 Joy McNevin - 5:30 - Full Marathon
Where are you from? West Palm Beach, FL
Current P.R. Marathon 4:59:34
Number of marathons? Five Marathons, Five 50Ks, Seven Half Marathons

Favorite Marathon: Space Coast Marathon

Personal goals: TGNY 100k in June
Why do you run?
I truly enjoy it. Running is something you can do for yourself and no one can take that from you.

Why should someone run in your pace group?
If you want to have fun at a comfortable pace, run with me.

Do you have any tips for runners about to join your group? Hydrate, Pace yourself and enjoy the view.
Share one quotation that you like. 
If you want to live a happy life, tie it to a goal, not to people or object. -Einstein