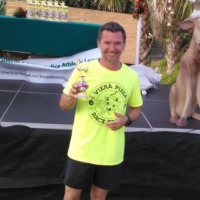 Keith Snodgrass, 1:45 - Half Marathon
Where are you from:
Melbourne, FL
PR:
Half Marathon: 1:25
Number of Marathons:
Over 50 half marathons
Favorite Marathon:
I really don't have a favorite. So many great half marathons in Florida.
Personal Goals:
To race one of the major marathons or Boston.
Why do I run?
To stay fit as I get older. Also great for my sanity.
Why join my pace group?
If you want a very consistent pace every mile and encouragement, I'm there to provide that.
Tips:
Trust your pacer. Keep relaxed and enjoy the first miles. There is no award for who ran the fastest 5k or 10k in a half marathon.