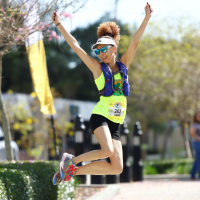 KimmieLynn Gates, 4:00 - Full Marathon
Where are you from?
I'm originally from Freehold, NJ.
Current P.R.
Half marathon – 1:39:19
Marathon – 3:33:42
50k – 4:39:07
50M – 7:58:52
100k – 11:07
Number of marathons?
18 ultra marathons, 43 full marathons, and 14 half marathons
Favorite marathon:
Southernmost Marathon in Key West; it was my first race & will always be special.
Personal goals:
I'd like to continue running, staying healthy, and enjoying races in new locations.
Why do you run?
It's fun and is a great way to meet amazing, friendly, and happy people.
Why should someone run in your pace group?
We'll have fun, and I promise to make sure you stay steady, consistent, and running smart the entire time!
Do you have any tips for runners about to join your group?
Enjoy the race! Look around at the scenery, talk (if you can) to your fellow runners, and join me in those heel-clicks!
Share one quotation that you like:
Forget the glass slippers, this princess wears running shoes.