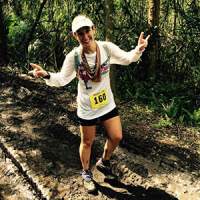 Loren Santiesteban, Half Marathon - 2:30
Where are you from?
I'm from Union City, N.J. and currently living in Miami, FL.
What is your current PR?
50 mile (2015 Croom Fools Trail) – 9:57:52
50k (2011 Croom Fools Trail) – 5:45:10
Marathon (2013 A1A Marathon Road) – 4:03:58
Half Marathon (2011 Miami Half Marathon Road) – 1:51:29
Why do you run?
Running in the outdoors and on trail brings me spiritual peace and joy.
Why should someone run in your pace group?
I am a very positive and encouraging person. I believe this comes through when I am running with others.
Do you have any tips for runners about to join your group?
Remember, this is what you have trained to do. Trust your training. Try not to allow the stress and pressure of achieving a time goal to dampen your experience. You have worked hard to get to the starting line. Enjoy it!
Share one quote that you like.
"Look, I don't want to wax philosophic, but I will say that if you're alive you've got to flap your arms and legs, you've got to jump around a lot, for life is the very opposite of death, and therefore you must at very least think noisy and colorfully, or you're not alive." – Mel Brooks