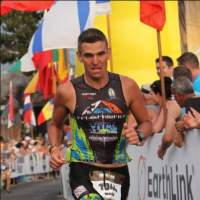 Mark "Sparrow" Swart, 1:40 - Half Marathon
Where are you from?
Roebling N.J ( a small steel mill town on the western and southern part of NJ)
Current Marathon P.R.
Half Marathon 1:18:04
Marathon 2:58
Half Ironman 4:23
Ironman 10:06
Number of marathons?
3 Marathons
7 Ironmans
10+ Half Ironman + Half marathons combined
Favorite marathon?
The Kona Run Portion of The Hawaiian Ironman
Personal goals:
Continue to help runners and triathletes grow in the sport while traveling and competing around the globe.
Why do you run?
It is in me. If you are a runner and you ever tried to explain to a non runner why you run, then you too may have that same drive and desire. For me it is something I was born to do...
Why should someone run in your pace group?
I am here to help you get that 1:40!! We will dial in the pace and try to have some fun along the way.
Do you have any tips for runners about to join your group?
We need to pay attention to hydration and fueling. It could be hot and humid, so we will be diligent with nutrition plans!!
Share one quotation that you like:
"To give anything less then your best is to sacrifice the gift" - Steve Prefontaine