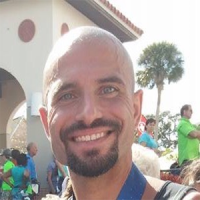 Mike Peragine, 3:30 - Full Marathon
Where are you from?
Port Saint Lucie, FL
Current P.R.
Marathon – 02:57
100 Miler – 18:47
Number of marathons?
16 Marathons
8 100 Milers
Favorite marathon:
Boston Marathon
Personal goals:
Completing the Badwater 135 Ultramarathon in 2018
Why do you run?
It has helped me become the best version of myself possible.
Why should someone run in your pace group?
I know how hard it is to accomplish goals, I love the opportunity to help others achieve theirs.
Do you have any tips for runners about to join your group?
Hard work can still be fun, enjoy the moment you worked for.
Share one quotation that you like.
You haven't tested your limits until you try something you can't do.