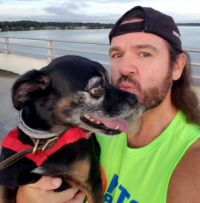 Richard Cubbedge, Full Marathon - 5:30
Where are you from:
Orange Park, Florida
Current PR:
My focus is more on "completions" since my start into running in 2009...
100 miler upcoming this December
1x 100k
4x 50 mile up to 100k
9x 50k up to 50 mile
3x Marathon plus to 50k
5x Marathons
6x Half marathons
Multiple various other distances
Why do I run?
The same reason I do most everything I do...to be an example & encouragement. If I can do it, most anyone can.
Why run in the pace group I lead?
My three tasks race day are to mark the pace spot-on, help you achieve your goal, and help you have a positive, memorable experience.
Tips and Things I have learned:
1) 2-3 hours before the start get easy digestible, high calorie foods. Pop-tarts are a good example.
2) Empty the bowels!
3) Empty the bowels!
4) Check to make sure the bowels are empty! Third time is the charm...just sayin'.
Quote:
I press toward the mark of the high calling of Jesus Christ our Lord.