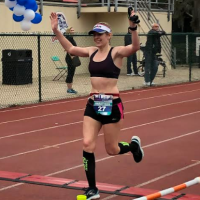 Sarah Sabol - 1:55 - Half Marathon
Where are you from? Stuart, FL
Current P.R. 1:36 for the stand alone half marathon
Number of Marathons: Too many to count - I'm also a (2x) 140.6 Ironman podium finisher whose favorite part is the run!
Favorite Race: The Tryptophan run (13.1) in Georgia - great energy, always cold and on Thanksgiving day - guilt free turkey!
Personal Goals: 1:30 half marathon
Why do you run?
So many reasons! I feel empowered when I run, pushing past limits and always challenging myself feeds my type A personality. I also love the social aspect of running, I feel like I have an instant family wherever I go and whatever race I'm in; I realized that running brought me together with others that are just as awesome and crazy as I am! Plus, I love beating many of the guys on the course. #YouGotChicked #FemaleAthletesRock
Why should someone run in your pace group?
You'll get a steady mile-for-mile pace, and if you stick with me, I'll even sing to you around mile 10 (which may make you run faster away from me!). I can be a talker while I run, so if you want some good stories to take your mind off of things, I'm your pacer. I'm also like Batman - I will have a "utility" belt filled with goodies for anyone in need!
Do you have any tips for runners about to join your group?
Whatever the race day brings you, it's the journey of how you got there that's important. Settle in and enjoy the run, the company around you and run your own race. Also remember in the journey of racing, the event doesn't get any easier, you just get faster.
Share one quotation that you like.
"Life begins at the End of Your Comfort Zone" - Neale Donald Walsch