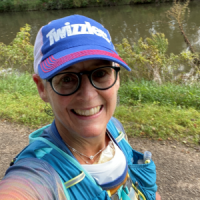 Sue Edwards, Full Marathon - 6:00
Where are you from?
Odessa, Florida via Georgia, Texas and Connecticut
What is your current PR?
Full Marathon: 4:45
50K: 6:28
50 Miler: 11:14
100 Miler: 24:56
150 Miler: 39:43
Number of half / full marathons?
6-8 Full Marathons
10+ Half Marathons
33+ Ultras
Favorite half / full marathon?
Grandma's Marathon
Personal Goals?
Be stronger than my fears.
Why do you run? I run to clear my head and feel the earth beneath my feet.
Why should someone run in your pace group?
We will have fun and everyone will finish! Yes, you CAN and you WILL!
Do you have any tips for runners about to join your group?
Just come out for a good time and enjoy yourself!
Share one quote that you like.
I want to stand as close to the edge as I can without going over. Out on the edge you see all kinds of things you can't see from the center. - Kurt Vonnegut, A Man Without a Country