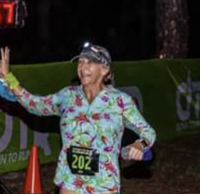 Susan Rawn, 6:15 - Full Marathon
Where are you from?
Royal Palm Beach, FL
Current P.R.
Half Marathon - 1:56
Full Marathon – 4:56
Number of marathons?
3 full marathons (will be 4 before March 1st!)
Over 35 half marathons
One 50K (I won my AG at Keys 100 in 2019)
Favorite marathon:
Key West & Miami are favorite half marathons
Space Coast and TCM are favorite full marathons
Personal goals:
To be better than yesterday.
Why do you run?
Medals are cool!
Why should someone run in your pace group?
If they just want to prove to themselves that they can do it and want company - I do several races every year with friends who don't run, just to show them what they are capable of.
Do you have any tips for runners about to join your group?
Be sure to stay hydrated and eat food - this is not the time to run on empty, it won't work.
Share one quotation that you like:
Someday I will not be able to do this - TODAY IS NOT THAT DAY!