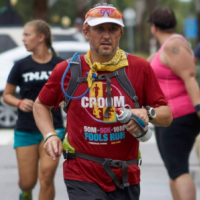 Thomas (Tommy) Grinovich, 5:15 - Full Marathon
Where are you from?
Higganum, CT
Current P.R.
NYC 2001: 4:02:24
Number of marathons?
Only 3. However, 17 ultramarathon finishes of 100 or more miles.
Favorite marathon?
This one! or is it the next one?

Personal goals?
To get the most out of life...EVERY DAY!
Why do you run?
That's hard to answer...I'm a better person when I run.
Why should someone run in your pace group?
TO HAVE FUN...and achieve a goal. Whether it's a first marathon finish, a PR, or just a long run with good peeps.
Do you have any tips for runners about to join your group?
Get a good night's rest the night before the night before the race.
Share one quotation that you like.
"Your chances of success in any undertaking can always be measured by your belief in yourself."