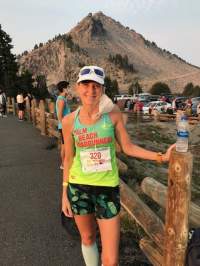 Anne Carroll, 5:00 - Full Marathon
Where are you from? Originally, Minnesota, but have lived in South Florida for the past 28 years.
Current P.R.
Full - 3:40:10
Number of marathons?
41 stand-alone marathons
4 Ironmans
25+ultras (including 10 - 100 milers)
Favorite marathon?
My 23rd where I finally qualified for Boston.

Personal goals? Keep running for as many years as possible.

Why do you run?
It makes me feel good about myself and I get to eat and drink whatever I want.
Why should someone run in your pace group?
I'll get you to the finish with even pacing.
Do you have any tips for runners about to join your group?
I'll be run/walking at 3/1 minute intervals. That equals a 10:24 run pace and a 16:00 walk pace. If you are running straight or your intervals are different don't worry. We can leapfrog the whole time. I'll do my best to be even until the finish, so just keep my sign in sight.
Share one quotation that you like:
"Run when you can, walk if you have to, crawl if you must; just never give up."