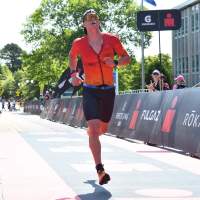 Where are you from?
I am from Manahawkin, New Jersey. Currently living in Port St. Lucie, FL.
Current PR
1:20:47 off the bike in a half Ironman. Actually haven't ran a half marathon fresh haha. This will be my first one without a swim/bike beforehand which is nice lol.
How many races?
I've done 2 half Ironman's so technically 2 half marathons under my belt.
Personal goals?
To become a professional triathlete this year, working super hard for it.
Why do you run?
I run because it is my way of challenging myself to the fullest and seeing what I'm capable of accomplishing with hard work and consistency. Day in, day out.
Why should you run in my pace group?
If you want to push yourself and reach a goal that you've had in mind for a while, I 100% will help you get there and we will have fun doing it together. We will elevate each other to reach our goals!
Tips:
1. Trust your training on race day, you put in the work so you know you are ready. 2. Have fun, smile, enjoy all of that hard work you put in. 3. When it gets tough, remember WHY you're doing it, whatever that WHY is. And you will push through.
Favorite Quotation: "Continuous effort, not strength or intelligence, is the key to unlocking our potential."