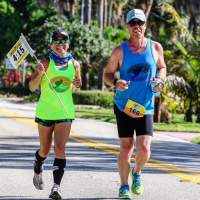 Christian Stewart, 4:15 Full Marathon
Where are you from? Depending on the where the earth is in its orbit, I'm from a flat patch of organic compost on the left side.
Current P.R.
Half – 1:33 ?
Full – 3:08
Number of marathons/half marathons? I have no idea. I don't really count or look. think I have done maybe 12 official marathons and 25 official half marathons. I got into ultras in 2009 and spent most of my time doing those.
Favorite marathon? Volcano Marathon, Chile
Personal goals? Photograph as many dead end sidewalks as possible.
Why do you run? It changes depending on the day. There is a long list of reasons , but they don't always apply at once. Sometimes they would seem to conflict (I like the group dynamic / I like to get away from everyone), but choosing to run regularly seems to be a good decision no matter what the reason.
Why should someone run in your pace group? If they enjoy the company of humans and potentially would like to draft.
Do you have any tips for runners about to join your group? Stay as relaxed as possible.
Share one quotation that you like: "I love Addie Green" – Christian stewart