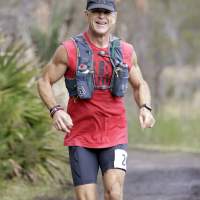 3:00 Dan Rawn
Where are you from?
Currently West Palm Beach, born in Columbus Ohio with about 30 stops in between!
Current P.R.
Half - 1:53
Full - 4:11
Number of marathons/half marathons?
Really don't know... 50ish?
Favorite marathon?
I really like Miami and Marine Corps in DC
Personal goals?
To be fit and active into my 80's. The oldest finisher in this year's Miami Half was 91 years old!
Why do you run?
(1) Mental wellness
(2) Physical wellness
(3) To continue to challenge myself
(4) To keep me from sitting on the couch eating bon bons!
Why should someone run in your pace group?
To finish in 3 hours... you run/walk... I pace.
Do you have any tips for runners about to join your group?
We're just gonna run/walk until we're done!!
Share one quotation that you like:
"What if?...."