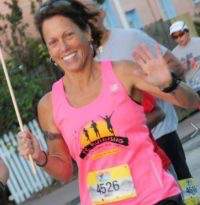 Janet Napolitano, 5:15 - Full Marathon
Where are you from?
Brooklyn, but I've lived in Stuart now for 10 years
Current P.R.
Full marathon is 4:00:09
Number of half / full marathons?
Over 35
Favorite half / full marathon:
Space Coast and TCM
Hobbies:
Running
Personal goals:
To drag each and every one of you across that finish line with a smile
Why do you run?
It's the cheapest therapy around. I love my running friends.
Why should someone run in your pace group?
Although I couldn't do a finish line cartwheel without needing the Emergency Room immediately after, you will have a lot of fun
Do you have any tips for runners about to join your group?
Put in the training. 26 miles takes work. It's ALL worth it in the end. Always!
Share one quotation that you like:
"If you think you can or you think you can't - you're right".