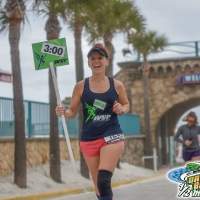 Jennifer Jordan (JJ), 4:30 - Full Marathon
Where are you from?
I grew up in Michigan, but now live in Lake Mary, FL
Current P.R.
Half - 1:46
Full - 3:41
Number of marathons?
18 fulls, 5 ultras
Favorite marathon?
Tomoka Marathon in Ormond Beach, FL
Personal goals?
To still be running with a smile on my face at 70 years young.
Why do you run?
To stay in shape, it's my social time, and for Layton, my IRun4 buddy
Why should someone run in your pace group?
For the encouragement from start to finish. You won't even notice the miles are flying by. You focus on running and I'll focus on the pace.
Do you have any tips for runners about to join your group?
Have fun and run happy. Start out conservative and pick it up when you feel good.
Share one quotation that you like:
"The miracle isn't that I finished. The miracle is that I had the courage to start." - John Bingham