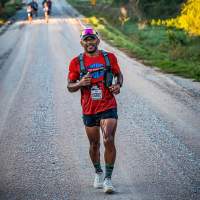 Current P.R.
Half - 1:38
Full - 3:21
Number of marathons/half marathons?
I've ran 40 marathons. I don't keep track of the halfs. My favorite running distance is 15K.
Favorite marathon?
Marine Corps Marathon.- Rock n Roll New Orleans is a close 2nd because having coffee & beignets at café du monde post-race is my jam.
Personal goals?
To run a marathon in all 50 states.
Why do you run?
I run to enjoy this beautiful world.
Why should someone run in your pace group?
I invite runners to run with my pace group to share their stories and meet other runners. We each have a story to tell.
Do you have any tips for runners about to join your group?
Execute the nutrition and hydration plan that worked for you in training, and run the mile that you're in.
Share one quotation that you like:
"Don't suffer imagined troubles."