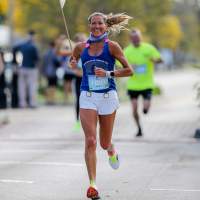 Maria Urso, Half Marathon 1:45
Where are you from?
Jupiter, FL (Before that, New York and Boston)
Current P.R.
Half - 1:28
Full - 3:07
Number of marathons/half marathons?
>40 Marathons, >50 Half Marathons
Favorite marathon?
Marine Corps Marathon

Personal goals?
Never stop growing- whether at work, in training, as a person, friend, etc.
Why do you run?
It feels like playing- like when you were a kid (in new sneakers!). Strong, free, clear headed. Over the course of my life, running has opened up many opportunities, introduced me to wonderful people, and led to unforgettable experiences.
Why should someone run in your pace group?
They will be well cared for- from entertainment, to a positive vibe, to high-energy encouragement, to my "concierge approach" to pointing out water stops and obstacles. I like to break the race down as we go, talk about our strategy based on terrain or mile markers, and keep us moving as a group.
Do you have any tips for runners about to join your group?
Do your thing. You came to the race with a plan and goal in mind, and many training runs under your belt. Settle in, get comfortable in your stride, ask questions, and still run your own race. If you love to talk- talk. If you would rather hang with the group and listen to the chatter, don't feel pressured to chime in. Pre- race: don't do anything different, get your best sleep two nights before, start hydrating three days out, and there is no such thing as too much Vaseline in the high-chafe spots!
Share one quotation that you like:
Fun is one of the most important and underrated ingredients in any successful venture. If you're not having fun, then it's probably time to call it quits and try something else – Richard Branson