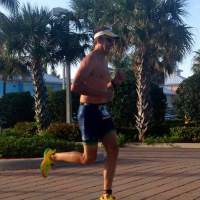 Mike Reinhardt - 2:00 Half Marathon
Where are you from?
Palm Beach Gardens, Florida
Current P.R.
5k - 18:37
10K - 40:10
13.1 - 1:37:17
26.2 -3:18:51
Number of marathons/half marathons?
Marathons - 11
Half Marathons – 15
Favorite marathon?
Boston Marathon
Personal goals?
Sub 1:30 Half Marathon
Sub 3:15 Full Marathon
Why do you run?
I don't know why I run, I just do and I like it.
Why should someone run in your pace group?
I will keep them motivated to finish and keep a solid 9:09 pace to finish in two hours.
Do you have any tips for runners about to join your group?
Don't do anything new on race day and don't go out faster than you trained for.
Share one quotation that you like:
If it was easy, everyone would be doing it