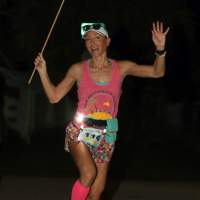 Where are you from? Chicago, IL
Current P.R.
Half - 1:37
Full - 3:32
Number of marathons/half marathons? 3 / 20+
Favorite marathon? The Boston Marathon
Personal goals? To race all 6 World Marathon Majors, To share my love of running through pacing, and To stay healthy enough to run until I'm a very OLD lady
Why do you run? I simply love it! It can be deeply personal, yet social too. I love the challenges, the comradery, the friendships and the way it makes me feel!
Why should someone run in your pace group? Let me do the Math! I will keep you informed and on track so you can meet your time goal while having FUN!
Share one quotation that you like: Create your own destiny or someone else will!