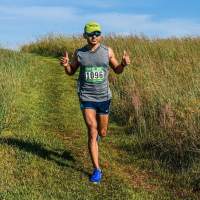 Where are you from? Originally From India and Currently live in Tampa , FL
Current P.R.
Half - 1:24
Full - 3:00
Number of marathons/half marathons? 80+
Favorite marathon? Florence, Italy
Personal goals? Sub 2:50 Marathon and Run a marathon in Antarctica and all 7 continents
Why do you run? To stay healthy and positive always
Why should someone run in your pace group? Because you will have very little things to worry about during the race and just focus on staying with me to hit the goal time. I will be there to motivate you when you are struggling; give guidance on the course/upcoming hills and also remind everyone to make use of hydration stations effectively. Every mile splits will be called out loud so that you don't even have to look at your watch. Let's have a great race together.
Share one quotation that you like: "It's not what we do once in a while that shapes our lives. It's what we do consistently."