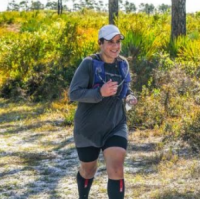 Rue Hazout, Full Marathon - 6:00
Where are you from?
Originally from Israel but now resides in Florida
Current P.R.
4:45

Number of marathons?
1 – 100 miles
1 – 100K
2 – 50 miles
7 – 50K
3 – Marathons
Other various distances
Favorite marathon:
Space Coast
Personal goals:
Complete all my bucket list races such a Juvalina 100, Tahoe's 50 Miler.

Why do you run?
Because I couldn't for many years until I started believing in myself. I started running just a few years ago and hope to inspire others.

Why should someone run in your pace group?
Why not?! If you have a goal to finish a marathon, than this is the group for you! Let's make it an experience to remember.
Do you have any tips for runners about to join your group?
Make sure you take in calories every 3-4 miles, drink, and have fun.
Share one quotation that you like.
"You don't have to be fast, but you have to be fearless!" ~ Rue