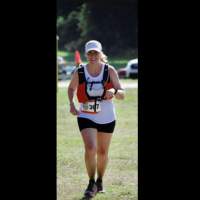 5:30 Therese Lewis
Where are you from?
St. James, MO
Current P.R.
Half – 1:53
Full – 3:55
Number of marathons/half marathons? Not entirely sure. At least 23 full marathons. ? half marathons
Favorite marathon? People, Treasure Coast! Scenery, Colorado Marathon
Personal goals? I have been slowly building up my ultramarathon distances, just completed my first 50 miler, so guess next up is 100K.
Why do you run? I run because I truly enjoy it, and I have found so many wonderful friends through running. I run to spend more time with those wonderful friends!
Why should someone run in your pace group? If you worry about running in silence for 5 and a half hours, worry no more! I promise to keep the conversation going for the whole 26.2 miles.
Do you have any tips for runners about to join your group? My tip is to always try to enjoy each race and accept what that race is in your running journey. Some races, we crush personal goals. Some races, we take pictures on the bridges and have weird PRs like 'most bathroom stops in a race'. All races have their own unique vibe and experience. Embrace that.
Share one quotation that you like: "You've got this!"