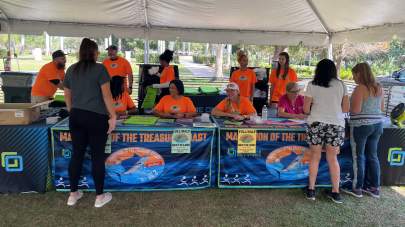 Volunteering for the Treasure Coast Marathon is a great way to become involved with one of fastest growing events in Martin County. Our goal is to make this a positive experience for everyone involved and raise money for numerous charities as well.
We're looking for volunteers in several key areas for Race Weekend.
As a volunteer, you'll have the chance to meet and help runners and spectators. If you have a great personality, a strong work ethic and an interest in having fun, these volunteer opportunities are for you.
As a volunteer, we encourage you to root for the race participants as they run or walk by. Yell out words of encouragement and when safe, take pictures!
Don't forget to join our Facebook Volunteer page to get the latest details about upcoming volunteer opportunities at other races in the Treasure Coast!
There is a role for everyone! Encourage your friends, family and co-workers to sign up with you.
Volunteer assignments include:
Part Safety Officer: Our first priority is to provide a safe course for our runners. Course Marshals are positioned throughout the course usually at intersections and are responsible for directing runners at turns. Course Marshals can leave their post when the sweeper team comes by to tell you that last runner has come through.
Keeping Runners on Course: As soon as you see a runner, begin to signal with your hands and your voice which direction or turn they are supposed to make. Often runners get in a zone and need plenty of advance warning to know which way to head.
Part Traffic Cop: Course Marshals are positioned at intersections that are blocked for traffic. Responsible for keeping cars off the course and maintaining a safe environment for runners. The more heavily travelled intersections usually are accompanied by police officers.
Part Cheerleader: Cheer the runners on – it's a long course, for some runners 26.2 miles, and you could be the only people they see for miles. Get up, get excited, and keep them moving! Be creative, bring a radio to play music, wear a funny hat or costume – you'll be part of the inspiration that keeps the runners moving. Do not tell runners they are 'almost there' no matter where you are on the course. Use words of encouragement like "Good job!" "Keep going!" "Dig deep, you can do it!"
Aid Stations - Manning a water stop is fun, fast paced and a great way to be a part of the excitement.
Have cups of water or electrolyte drinks ready to distribute to runners as they pass you by.
Keep the race route clean of used cups to avoid accidents.
Race Medals: setup and distribution to runners as they cross the finish line.
Post-Race Nutrition Tent: replenish food supplies as needed and hand out food to runners.
Volunteer Guidelines:
Volunteers must wear their Marathon of the Treasure Coast volunteer t-shirt.
If at any time during your assignment you have a problem, notify your Route Team Leader immediately, who will inform the proper authorities.
Dress appropriately for the event and the weather. Wear comfortable shoes, hat, sunglasses, etc.
Do not bring backpacks, cameras, or other valuables with you to your assignment. The race is not responsible for lost or stolen items.
Volunteers are required to obey the "No Smoking" and "No Alcohol" policy for the duration of their assignment.
Be prepared and flexible for a long day.
Reassignments may occur.
Refreshments will be provided for volunteers checking in at the Expo or for race events.
Volunteers working along the race course should bring water & a snack/lunch.
As a volunteer, you will be asked many questions. There will be an orientation to familiarize you with the event. Use this website to familiarize yourself with the course maps and start/finish diagrams and all weekend events. The maps and diagrams will provide valuable information to make the participants' experience a great one.
Questions? Please contact Willie Savoie (561) 339-4690 at Willie@GameOnRaceEvents.com