Virtual Race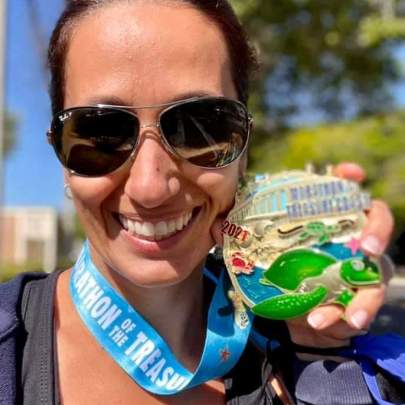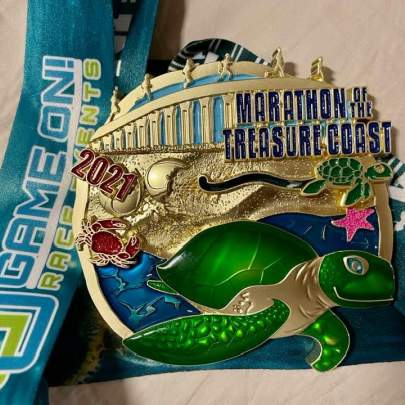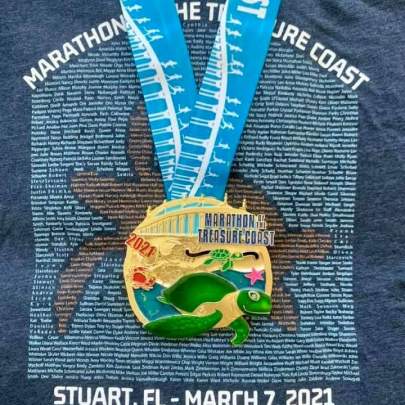 Run your Full or Half Marathon anywhere in the world! Can't be here in person to run with us? No worries! We'll miss you, but you can still earn the awesome Marathon of the Treasure Coast medal on your schedule by registering for the Virtual Race. You can even break the distance up into multiple shorter training runs.
Training for another race? Running with the military or your school's cross country or track team? Earning a medal for someone else with #Irun4? Perfect! We want to reward your running fitness goals any way possible! Simply register for the Virtual Race and post your results on our Facebook page or on our results page. Just show us a picture of your GPS or even the results from another race you have run and then we will send you the awesome Treasure Coast Marathon medal! Completion times for the virtual race do not compete with physical race categories. See the rules below for more details.
Rules for the Virtual Race
Register for the Virtual Race: In all international cases, international shipping charges will be billed separately at time of award.
Athletes may complete a half marathon (13.1 miles) or a full marathon (26.2 miles) anytime from now until the medal inventory is exhausted.
Your Virtual Race can be completed in a single run, or you can split it up over multiple days.
We hope that you will consider "Running for a Reason" and raise funds and awareness for one of our many charitable// causes selectable during the registration process. For more information visit our Run For Charity page.
Please share your results, experience and photos on our Facebook page at http://www.facebook.com/TCmarathon. Please note that Virtual Race results are not recorded as official results, nor are they eligible for age group awards or rankings.
The Virtual Race is staged primarily on the honor system. After registering, please share your completed mileage (race result from another race, picture or report from your GPS, or almost anything that indicates you completed your goal). Upon completion, we will send you the official finisher medal for your event distance.
Virtual Race medals are the same as the race day medal and will be mailed within 2 weeks following the actual "live" event.
Thank you for participating in our Virtual Race. If you have any questions, don't hesitate to contact us at racedirector@treasurecoastmarathon.com.
Have fun. Stay safe.