Half Marathon Route Map and Perks
Marathon of the Treasure Coast
Marathon will start at 6:00am, Half Marathon will start at 6:15am, March 6, 2022 - Memorial Park.
Our half marathon course features 13.1 miles of Treasure Coast beauty, loaded with the charm of southern Florida: water views, community involvement, a competitive and "live" race with COVID-19 protocols implemented. If you're searching for the ideal winter destination running event, then look no further! Run the Treasure Coast!
Click here to read Registration Policies.
Race Cut-Off Policy:
Our beautiful and scenic route and our awesome volunteer route support are available for a 7 hour pace (6AM to 1PM), but the timing and Race Village will stay open and available until all participants have crossed the finish line, no matter what time that is!
We do begin shutting down the aid stations and releasing volunteers from their posts according to a seven-hour marathon finish pace (1:15PM). This means that much of the aid will be reduced or gone if you're running much slower than a seven-hour finish pace.
If you have a crew or support person, they're welcome to supply you aid in the final miles if you're behind a seven-hour pace, and there are some options for buying aid along the way in the final three miles, if you're unsupported.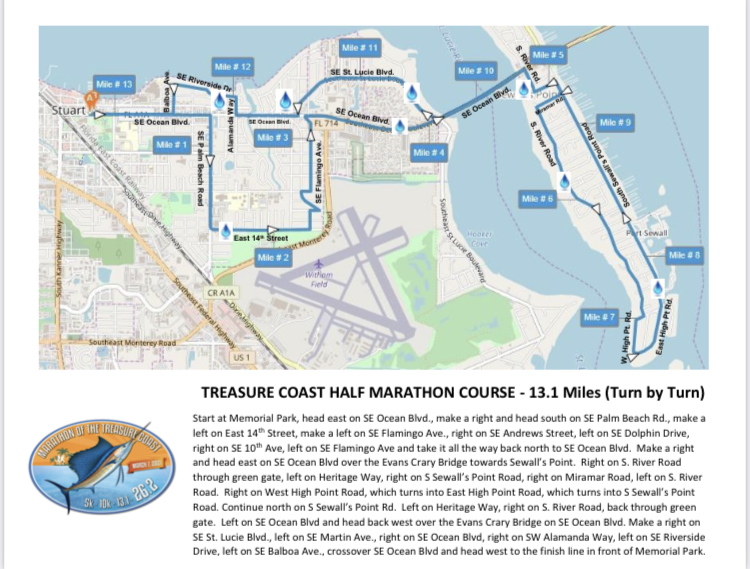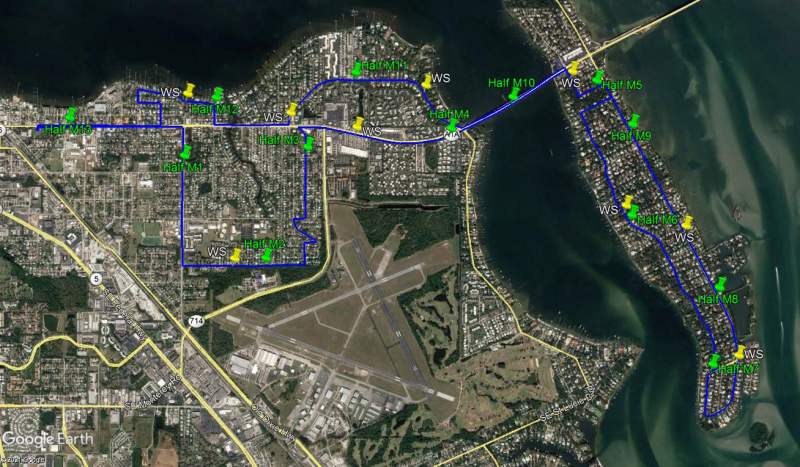 Runner Perks
All finishers will receive:
A great Treasure Coast medal: VIEW HERE
Technical race shirt
Personalized bib, if you register before Jan. 1
Age group category awards for the top three participants in Male and Female categories
Race Village entertainment
Swag Bag
Age group awards: Awards will be given based on chip time for each age group category for males and females in the full marathon and half marathon races.
Awards will be given in age group categories in five-year increments: 15-19; 20-24; 25-29; 30-34, etc., all the way to 80 plus. Additional category awards will exist for the four-person full marathon relay and charity teams contest.
Timing and scoring: Mike Melton Timing is handling race timing and scoring for the Marathon of the Treasure Coast.
You will be given a race bib with an embedded disposable timing chip located on the back of the bib. Please make sure that you wear your race bib on the front of your person – not on your back or side, as it may not be read properly at timing mats.
Additionally, your bib allows everyone on the course to know that you are part of the race.
Interim results will be posted as runners begin to progress through the race. These interim results will be updated throughout the morning.
If you notice any error with your results, please report to the timing area at the finish line, and it will be resolved as quickly as possible.
Results will often change as updates are made and results will not be considered final until all runners have finished and results have been reviewed for accuracy.