Girls on the Run of the Treasure Coast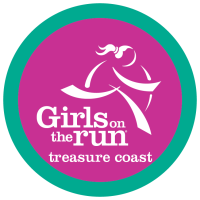 Girls on the Run is an after-school program that encourages girls to recognize their individual strengths and celebrate connections with others. Lead by trained volunteer coaches, girls in 3rd-5th grade and 6th-8th grade participate in a ten-week season of 20 lessons using our research-based curriculum which includes dynamic group discussions blended with physical activity. Girls gain a better understanding of who they are and what's important to them, the value of teamwork and healthy relationships and how they can have a positive impact on their community.
Running is incorporated into each lesson to encourage physical wellness and teach life skills such as self-awareness, finding balance, managing emotions, and standing up for themselves and others. Girls also make a meaningful contribution through a team-organized community impact project. Each season culminates with a Girls on the Run 5K event. This celebratory, non-competitive event provides girls with a sense of accomplishment and instills the value of goal setting.
Facebook: Girls on the Run of the Treasure Coast
Tax ID: 45-2563350