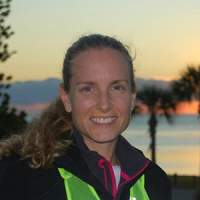 Angela Singleton, 2:30 - Half Marathon
Where are you from?
Gainesville, FL
Current P.R.
2:13 half marathon
4:58 full marathon
Number of marathons:
6 marathons
Favorite marathon:
Sarasota Music Half (half), Disney (full)
Hobbies:
Running, Tennis, Photography, Arts and Crafts, Music, Eating Healthy, Reversing Disease/Health Research
Personal goals:
Live life to the fullest with health and happiness
Why do you run?
Health, great company, and the joy of the race
Describe your best running memory:
Sprinting from photo stop to photo stop and riding roller coasters on the Disney Marathon.
Why do you pace?
To give back to others and encourage runners in meeting their goals.
Tell us about your best pacing experience:
The most memorable was pacing for the Shipyard Portland Half in Maine. It was a completely new location and experience. I met a lot of wonderful people whom I still keep up with on Facebook and have caught up with again at other races.
Why should someone run in your pace group?
If you like to be totally distracted with fun conversation and inspirational running stories with laughs all of the way, come join me. We'll stop for aid stations, enjoy the cheer sections, tell jokes, etc. If you are new to running and have questions about nutrition, recovery, race strategy, or are curious about other races in Florida, I'll happily answer all of them.
Do you have any tips for runners about to join your group?
Be ready to enjoy yourself and smile for photos.
Share one quotation that you like:
A mother's best survival kit includes a Bible, running shoes, and chocolate. –Suzanne Farina