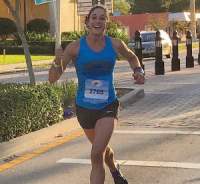 Chelsea Hollingsworth , 1:35 - Half Marathon
Where are you from?
Born in Humble, Texas but grew up in Summerfield, NC

Current P.R.
Half-marathon 1:19:20

Number of marathons?
1 marathon; 9 half-marathons
Favorite marathon
Markel Richmond Half-Marathon and the Disney Marathon
Personal goals:
1:17:59 in the half-marathon; sub 3:00 in the marathon

Why do you run?
Running keeps me goal-oriented, disciplined, and serves as a metaphor for life. Great things do not come overnight. As with anything in life from family to your career- it all requires hard work, discipline, perseverance, and the desire to make a difference. The purpose I carry with me when I run is also the same purpose that I try to carry throughout my life- loving the gift, persevering through hardships, encouraging others in their own journey, and relying on someone greater than myself to reach that finish line.
Why should someone run in your pace group?
I love encouraging others to realize their potential and to push past what they may think is impossible. Running as a group and encouraging others is how goals are met. We need each other to work together throughout the race and I would like for us all to run as a group to reach a common goal.
Do you have any tips for runners about to join your group?
Believe in yourself.
When the pain sets in, that's when you need to press through- it gets better, it's simply a matter of pushing through the wall.
Most importantly, SMILE.
Share one quotation that you like.
Do not fear failure but rather fear not trying.