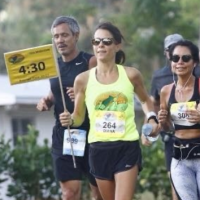 Diana Walsh, 4:30 - Full Marathon
Where are you from?
Palm City
Current P.R.
3:39:06
Number of marathons?
27 full marathons
4 half marathons
8 ultras
Favorite marathon:
Have to say Boston because for me it required the most dedication for so long.
Personal goals:
After years of racing, I now prefer pacing other runners and would like to travel to pace more races, see new places, and meet new people.
Why do you run?
It's the most relaxing thing I do! And I meet the best people!
Why should someone run in your pace group?
I've done this enough to know that we are capable of doing so much more than we think. You know this too! That's why you signed up. I will remind you of this fact every time you need it.
Do you have any tips for runners about to join your group?
It is important to rest well the week before and eat & drink appropriately in the days leading up to the race. On race morning, dump any worries on that starting line, run light, and do your thing!
Share one quotation that you like.
"Don't stop when you are tired. Stop when you are done." - unknown