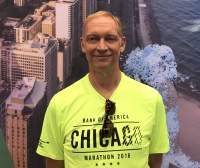 James Snell, 5:00 - Full Marathon
Where are you from?
Dallas, Texas
Current P.R.
4:08
Number of marathons?
73 (should be 77 by March 2018)
Favorite marathon:
The Madison Marathon near Ennis, Montana
Personal goals:
Qualify for the 2019 Boston Marathon (age group change, time goes up to 3:55);
100 marathons by Summer 2020
Why do you run?
To feel what we are capable of. To get away from the stresses of daily life.
Why should someone run in your pace group?
I will have a plan that will maximize chance of success.
I will be positive and tell good marathon stories!
Do you have any tips for runners about to join your group?
5:00 is an 11:25 pace. If you have not PR'ed below this pace, expect to be on average a minute slower on the back half than the front half. Ideally, we average 10:45 - 11:00 on the first half to accommodate a 12:00 on the back and still make the goal. Further, walking through the water stops is helpful, so run pace should be 10:45 from the start and retained as long as we can. Train for a relaxed 10:55 pace. Try to do at least one tempo run a week with 3-5 miles of sub-10:00s. The easier a 10:00 pace feels, the easier it will be to maintain a sub-11:00 on the first half of the marathon.
Share one quotation that you like:
Set aside expectations and live in the moment.