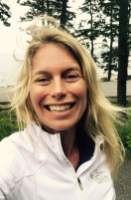 Joan Bauman, 3:45 - Full Marathon
Where are you from?
Originally from Deer Lodge, Montana. I have been in Palm City, FL 10 years.
Current P.R.
3:19 Jacksonville Bank 2015
Number of marathons? 19
Favorite marathon: I have 2!! For a big city race, it's Boston! But I also love a little marathon in Montana called the Madison Marathon. It is run on a dirt road that goes along the top of a mountain range!
Personal goals: keep training consistently and racing at all distances
Why do you run? Running affects every part of my life. Consistent training gives me the fitness levels to live a healthy, vibrant life. It gives me energy to be the best mom and teacher I can be. It gives me confidence. The friends I've met through my running group are unparalleled!! Going to races and challenging myself with various events locally and around the country has added so much joy and fun to my life.
Why should someone run in your pace group? Pace groups help keep you mentally in the race!! I'm positive, encouraging and consistent.
Do you have any tips for runners about to join your group?
Relax, trust your training, and have fun!
Share one quotation that you like.
Smile and enjoy the run. -me