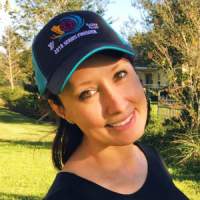 Mary Victory, Half Marathon - 3:00
Where are you from?
DeLand, FL
Current P.R.
Half Marathon 2:25
Number of Half Marathons:
10 half marathons, and 9 sprint triathlons.
Favorite half marathon:
Central Florida Legends Mermaid Half
Personal goals:
Complete an Ultra Marathon, Complete a Half Ironman
Why do you run? **
To stay in remission from cancer and for my mental health.
Why should someone run in your pace group?
I am the party in the back! The 3:00 HM is for enjoying the experience, for new runners and those looking to do intervals. I specifically train for this pace, and I enjoy encouraging people who are new to the longer distance races.
Do you have any tips for runners about to join your group?
Stay hydrated and listen to your body! No race is worth your health or getting injured. Running is a mental sport as much as it is physical, so find a mantra or positive phrase you can rely upon when you feel it is tough. One foot in front of the other, one step at a time!
Share one quotation that you like.
"Do or do not. There is no try." – Master Yoda