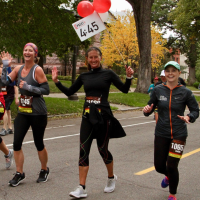 Diane Walsh, 245: - Half Marathon
Where are you from?
Jupiter, FL
Current P.R.
Full Marathon – 3:35
Half Marathon - 1:45
Number of marathons/half marathons?
80+ marathons
Favorite marathon:
Boston
Personal goals:
Keep running!
Why do you run?
For fun and for my health.
Why should someone run in your pace group?
Being part of a pace groups helps the miles fly by!
Do you have any tips for runners about to join your group?
Relax and have fun. We will take plenty of walk breaks and stay hydrated.
Share one quotation that you like:
"You got this!"