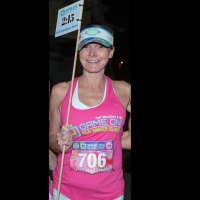 2:15 Maureen Flynn
Where are you from?
Blauvelt, New York
Current P.R.
Half - 1:41
Full - 3:47
Number of marathons/half marathons?
9 marathons & too many halfs to count
Favorite marathon?
New England Green River Marathon
Personal goals? Break 3:40 for a full marathon. Currently training for the Boston marathon.
Why do you run? I run for fitness of course but have gained so many friends & had such great experiences through running. So a big reason and motivation for me is the friendships I've made.
Why should someone run in your pace group? Run with me because we will have fun & the miles will fly by.
Do you have any tips for runners about to join your group?
Don't go out too fast. It should not feel too difficult at the beginning. Be a Prius for the first six or seven miles & save your energy for the end.
Share one quotation that you like:
"Today I will do what others won't so tomorrow I can do what others can't."